Discussion Starter
·
#1
·
Having seen what JimC64 did, and finding it really difficult to find answers to my dumb questions by searching around the fora, I thought I would start a thread of my own to give me a place to ask those questions.
First: Having resided over in the X100 forum for the last five years or so, I was looking for a four seater, and the XF seemed appropriate: having hunted around various XFs for months I came a cross an XJ and couldn't resist.
So, I now find myself the proud owner of a 2010 SWB XJ 3.0D Portfolio (22,000 miles) with more questions than I can rightly organise. I guess the sensible people get answers then part with money, but I have already blown that approach!
I only have a picture from the seller at the moment, I'm afraid, but here is the car in question: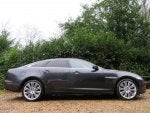 Question 1: What is "Whitefire"? I didn't get any headphones with it so that we currently have to listen to what is on TV in the back (or the TV watcher(s) have to lipread whilst listening to my tunes): I have ordered some Jaguar Whitefire headphones from eBay, and note that Range Rover ones are more available and cheaper, so (1a) will they work? ... (1b) and are there any third party headphones that will work? (particularly for children).
Question 2: I have bought a satnav update, and from what I can gather it will take hours to install. I drive to work and back every day, and that takes 30-45 minutes each way, so the question is: Can I start the update, and get half an hours worth done each way for a week until it is done, or will that somehow break the update? Do I need to sit in the car on the drive with the engine running (watching TV, obviously) for four hours to get it done in one go?
Questions 3 & beyond to follow ...