Hi all, looks like Scottish Torque show is on again this year!
Scottish Torque show, Sunday 3rd Sept 2023
See last years event here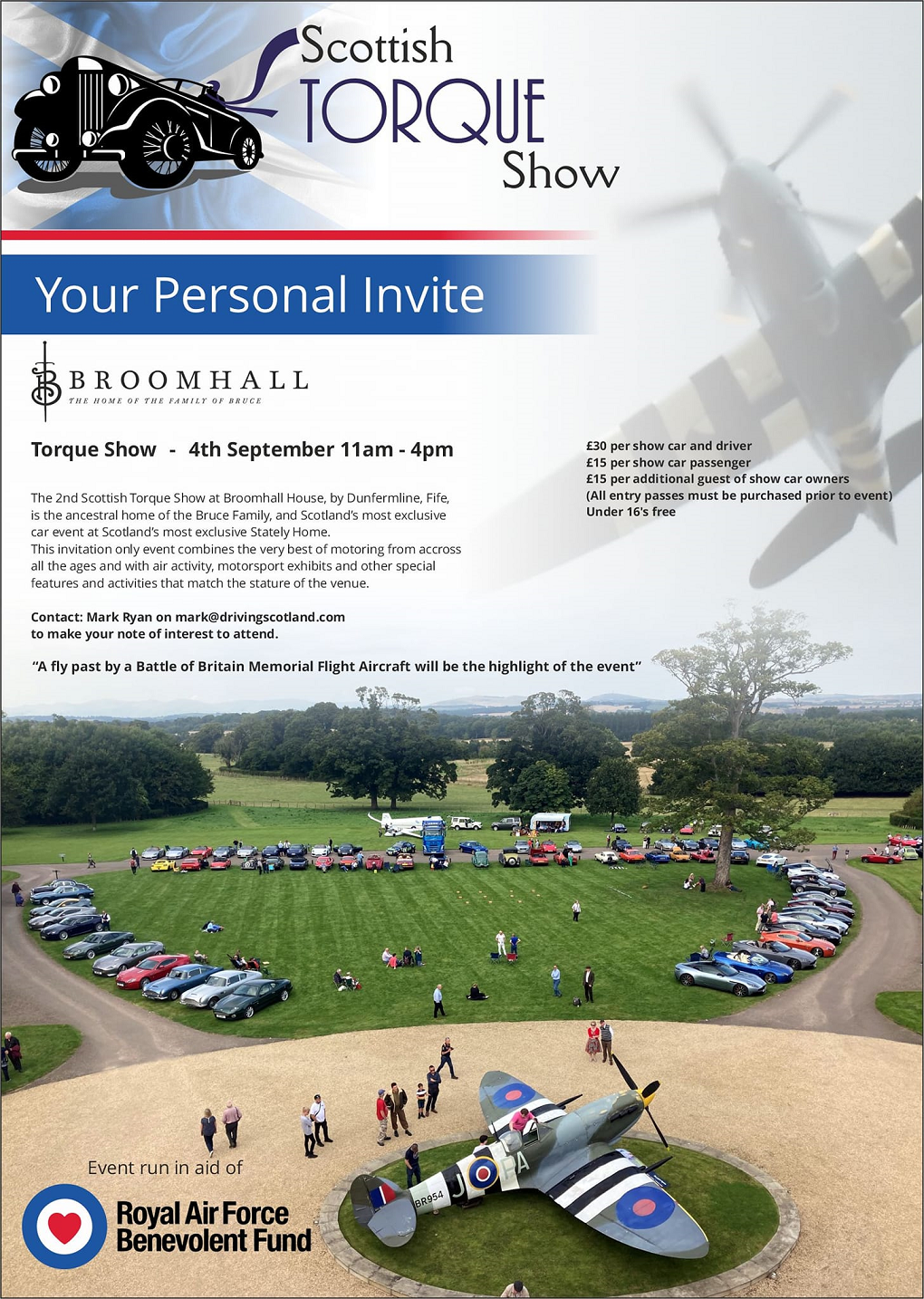 Hi all, I was just made aware of this the other day by Davy Kerner (XKRDavy) and looks to be a really cool event Sunday 4th September, Scottish Torque show in aid of the RAF Benevolent fund See details of the very exciting Scottish Torque Show 2022, an exclusive event celebrating...

www.jaguarforum.com
Awaiting more info, but likely similar to last year with a few twists n turns most likely.
I am not organising this, done by others, but will be nice to have a good Jaguar representation there.
There will be a host of various cars etc all there on the day and plenty to see and do, I'll add more later with detail, costs etc as and when I know.
Initial provisional listing...
UPDATED 12.01.23
added
1. JimC64 XJ X351 3.0D Portfolio 2016 LWB +1
2. MarcMcC XJ X351 3.0D Autobiography LWB 2016 +1
3. Glenn65 XJ X351 3.0D Autobiography LWB 2017 +1
4. #Steve XJ X351 5.0V8 Portfolio LWB 2010
5. XKR Davy F Type 5.0V8 2017 +1
6. Bob T X type 2.2d Sport 2006 +1
7. XJREcosse XJR 2007 +1
8. Rapala XF R-Sport 2.2D 2015 +1
9. Mentepazza I Pace 2020 +1
10.Tracey Mitchell X350 4.2V8 LWB 2007 +1
11. Nichol*2010 XF +1
12. Upster XKR Portfolio 5.0V8 2010
13. PeterG XE R-Sport 2.0d 2018
14. Flatcap XJ Super V8 +1
15. Zippo XF 5.0NA Portfolio 2008
16. Dadzadonkey XE R-Sport 2016 +1
17. Alec Escolme Daimler XJ X358 Super V8 2008
18. Ashanti XJ350 Super V8
19. TroyJag90 XJ8 Sport 2000 +1
20. Pegasus3710 XJ X351 3.0D Portfolio 2014 +1
21. Scottishblue XFR-S French racing blue 2014
22. Derek Clark F Type P300 Coupe +1
23. Douglas Yeats F Type P300
24.
25.
26.
27.
28.
29.
30.

Cars: 23
Attendees: 38
Thanks
Jim