Hi all, just a quick thread, we have a new addition to the family, the X type has been replaced after all I'm afraid
Sad to see her go, but time for a change. It's been an absolute roller coaster this past few weeks on this journey, more specifically the last week or so.
Tress knew we were getting a new car, but, crucially only expected something a little newer to potter around in for the next year or two, I had other plans and came up with a few ideas.
There were so many involved from my daughter, auld auntie, my sons, the dealer, Welshboa (massive thanks) Ian D and more, to make the surprise go off without a hitch, absolutely went according to plan and couldn't have been better
It's an XF-R Sport 2.0d in Ammonite Grey with black interior on a 17 plate with a little over 42k miles and looks great, she loves it and is over the moon, see advert pics below.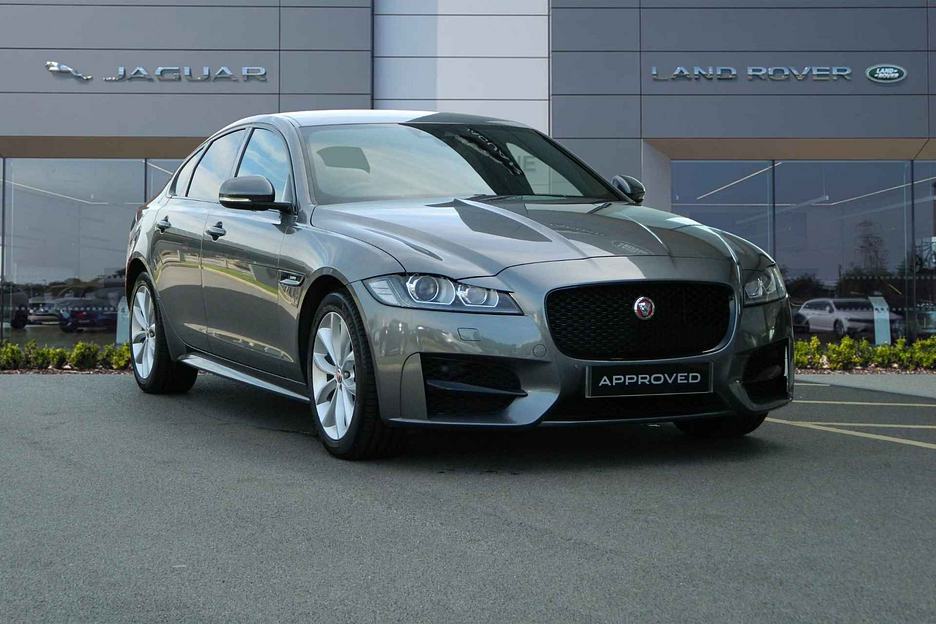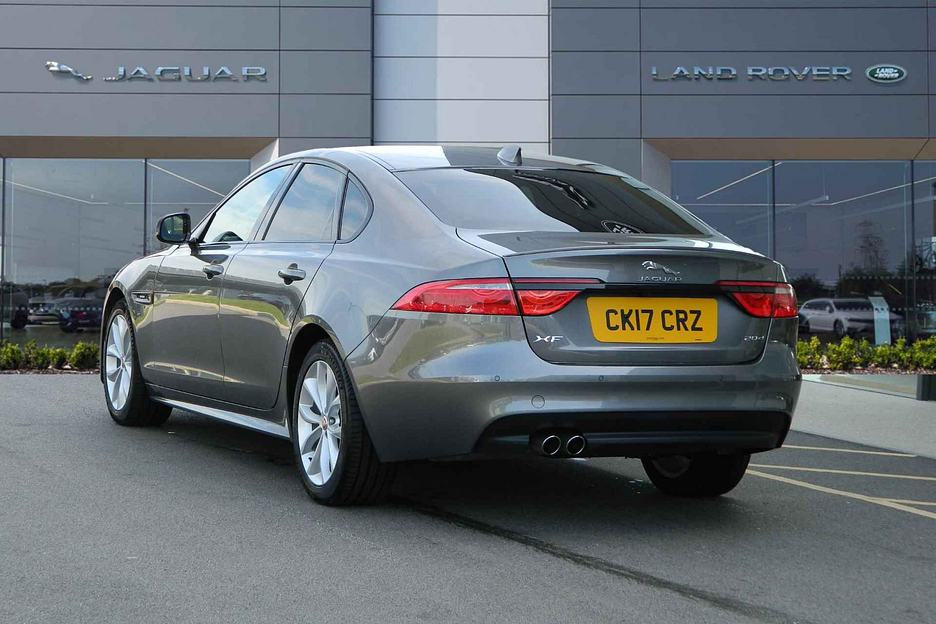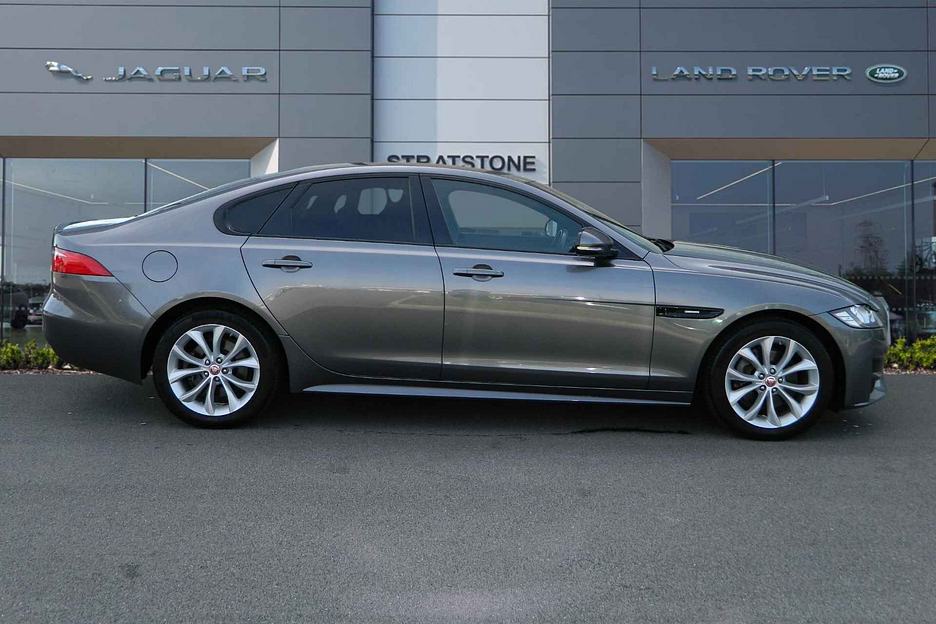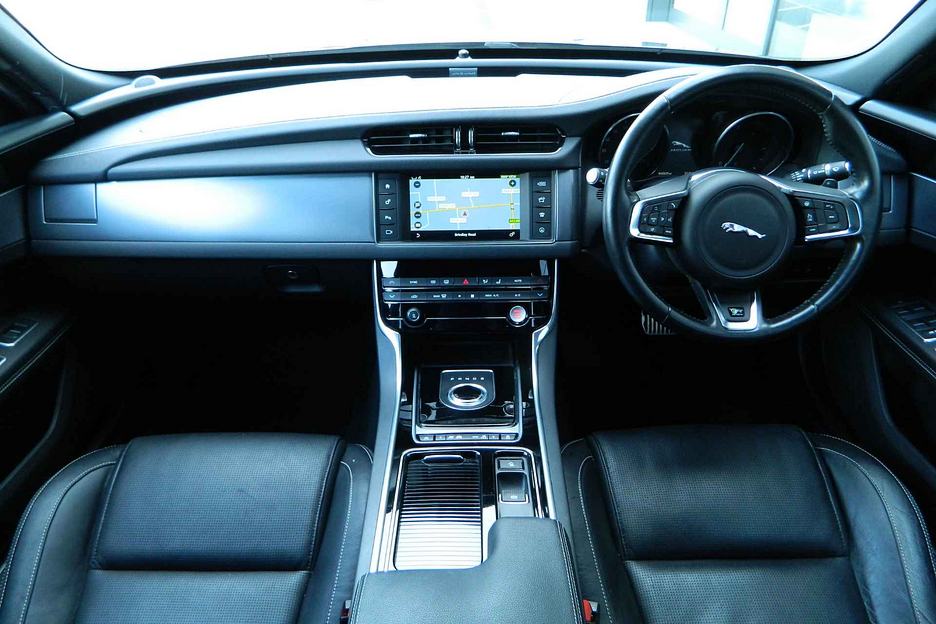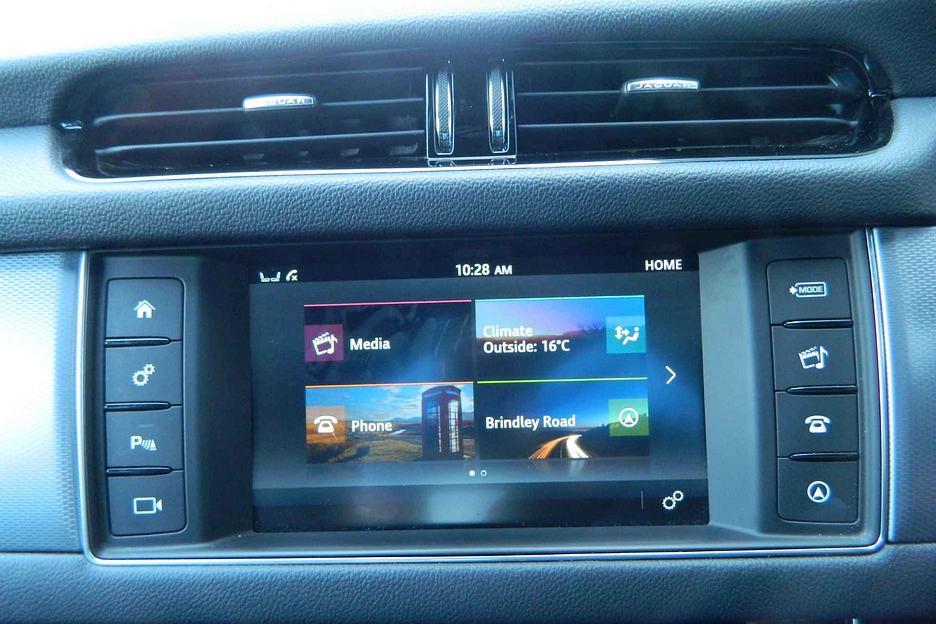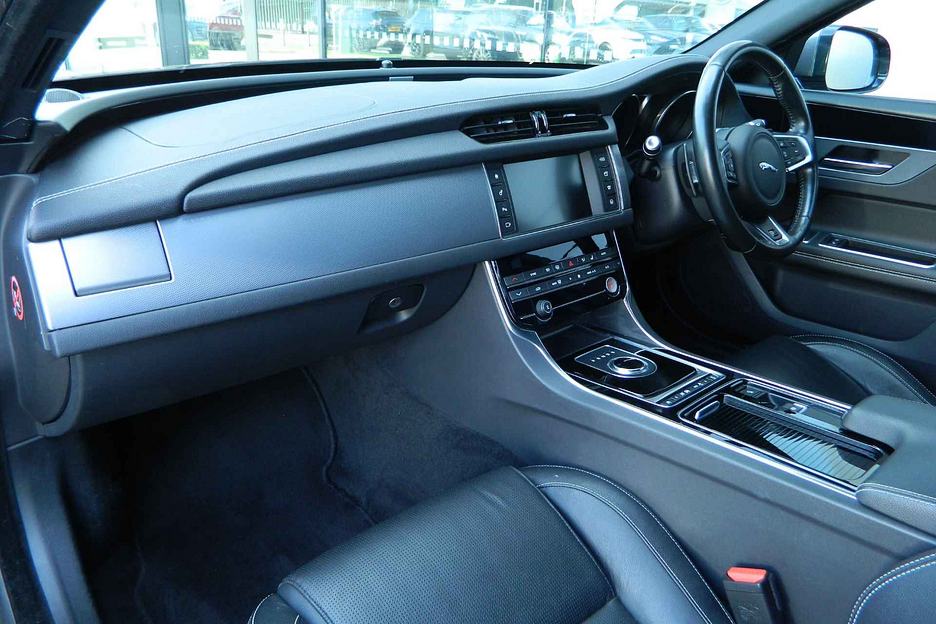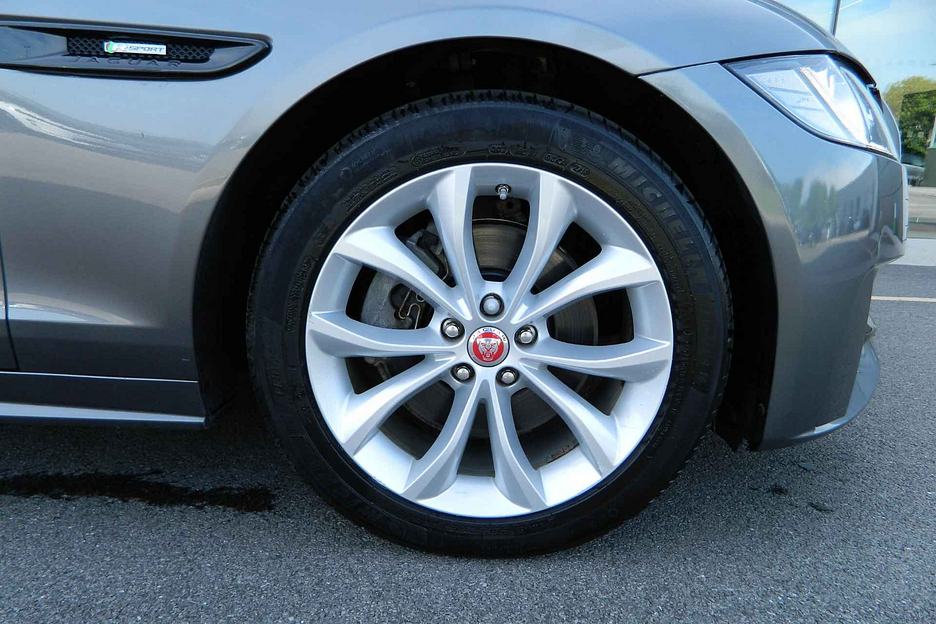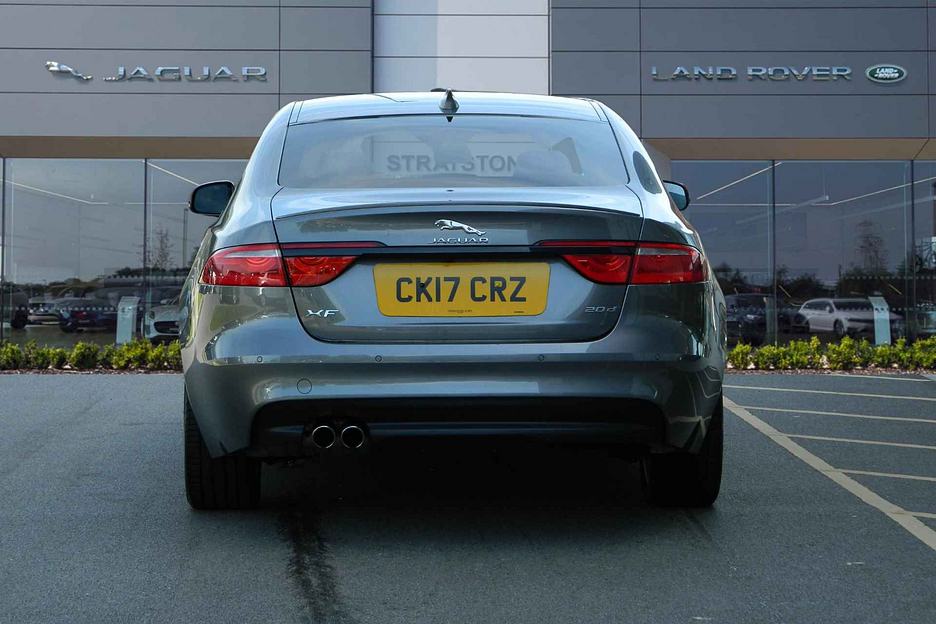 There's a massive story to go with it, the buying process, issues, delays and keeping the surprise from Tress ( the lengths we went too!! )
Unfortunately and as part of the process, my car is FUBAR'd, or at least it feels like that, I'll post more later
If it wasn't for bad luck I'd have no luck at all.
I'll fill this story out in the coming days or when I get a little more time and share with you all
Start of story below...
Ok, so here's the full back story to this car.....I'll try and give the full story, but condensed as far as possible.
Started looking early June, decided it was time for a change, as I said several months ago. It was always going to be a 2nd car, a good runabout with low miles etc etc, probably around £8k thereabouts, and that's what she started looking for.
In the meantime I saw this really nice 2017 XF-R Sport with only 42k miles on the clock that looked awesome, chatted to the salesman and actually paid the £500 deposit to hold the car at that point.
Then began the cat and mouse game of phone calls, no return phone calls, emails sent, not replied too for a day or so etc etc. This began 05th June and the proposed pick up was the next Sunday13th June, this didn't happen.
I was advised that the car needed M.o.t'd and some work as below
1. Car was due its 2nd service (NOT just an oil change I butted in, oil, fuel, air and pollen filter) to which he said yes
2. There were a couple of minor marks on the alloys, so all 4 being refurbished
3. A couple of small dings on drivers side door and fuel cap area were to be pulled out, dealt with
4. A scuff on both front n rear bumper, to be repainted.
I checked the last M.o.t myself and found it had an advisory for rear brake pads low and said I expected them to be changed too, they actually changed rear pads and discs, so can't fault them on that.
As an approved used car it came with a full 12 months Jaguar warranty and 24/7 roadside assistance of course
I got a message re the car on 10.06.21 saying there were other works required I had asked about the engine mounts and exhaust damper)
The extra works to be carried out at their costs were as below...
Oil Piston Cooler
NOx Sensor
Ad Blue Injector
Tyre & Inflation Kit
O/S Front ABS Sensor
Both Engine Mounts
Rear Exhaust Damper
I told them to crack on. my thoughts are better to have a car with those issues already paid for and sorted than buying a car that age / miles with these issues still to come to light to be dealt with.
In the meantime, Tress is looking at cars, talking bout cars, asking about cars night n day, almost went n bought one herself
I wanted it to be a surprise and had already chatted to the dealer about it, I wanted to come in on another matter, she would come in later and the car would be there with her plates on, SURPRISE!!
That was the plan.
A few problems came to light, least of all communications with the dealer, my sister coming up from Stoke for a long weekend THAT weekend, the Scotland match and more that I had to work around.
I decided that after many phone calls between my aunt / sister / dealer / daughter and more that I would go ahead on the following plan.
We would drive down to my sisters on the Friday night, watch Scotland beat England there, then leave early doors Saturday morning to head to Cardiff for a "Spa weekend" but in reality, to collect the car.
We do this quite a bit from time to time in any event so would seem unusual, so I made some fake Itison vouchers and hotel booking forms, see below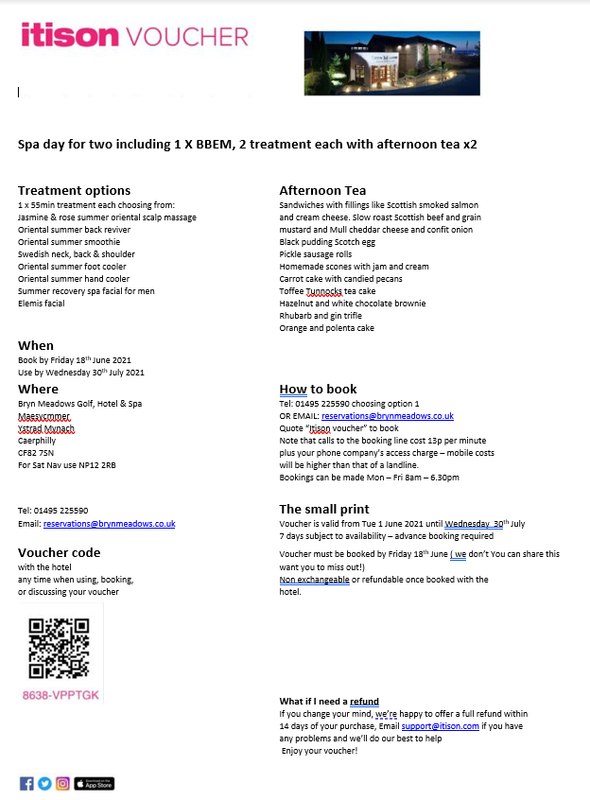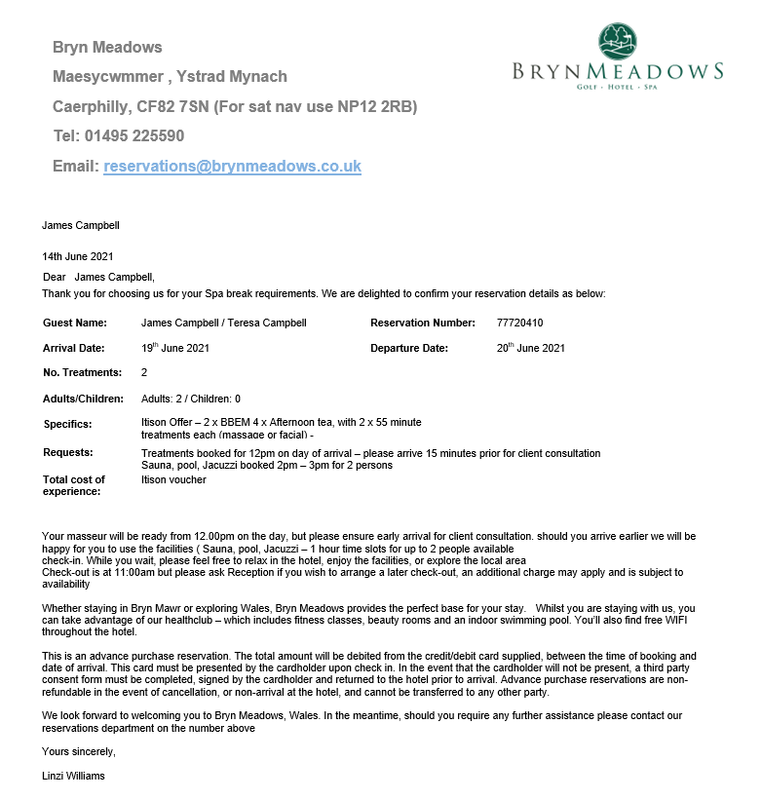 We'd be staying at Brynn Meadows in Caerphilly ( we've been before and she loved it ) for the weekend, All singing, all dancing, BBEM afternoon teas, 55 minute massage sessions, sauna, jacuzzi, pool etc etc.
I surprised her with this on the Thursday and she went mental, very very pleased and excited to have a break, especially as my aunt had paid for her and my sister to come too, was going to be great, she packed at around 1am that morning lol.
The plan was set, the dealership was told NOT to phone me on Saturday morning.
When we would arrive at the dealership ( I was calling there to see Rob, a mate off the forum to collect a special one off drivers side car mat for my car - after all it was only 10 minutes from the hotel ) I would enter ( with the haggis for Rob lol ) and then call Tress.
At this point, auld auntie would feign being unwell and needing to use the facilities and asking Tress to go with her, which she did
Before any of this happened, I had enlisted the help of one certain Welsh member (Welshboa - Andrew ) and he would call, in his best Welsh Wales accent pretending to be from the hotel, confirming our reservation.
When he called, it was all I could do not to laugh as Mr Richard Llewelyn went through our bookings, very professionally I might add, Tress listening all the time, soaking it in lol.
We arrived at the dealers and parked up, wait here I said, I'll only be 5 minutes, pass that haggis over please, and off I went.
Meanwhile sis says to Tress, in an exasperated voice, why are we here again?
Tress - Oh dunno, here to pick up some bloody car mats for his car, moan, moan, grumble moan lol.
More to follow....
Cheers
Jim